OlderWomenDating.com Review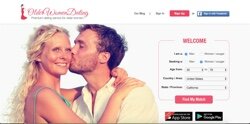 You can make the task of looking for a cougar a whole lot easier thanks to the many websites that exist online for this very purpose. There are no strings attached, there websites are easy to use and there is no worry of possibly offending anybody by proposing this kind of agreement. Today we are going to be looking at Older Women Dating, a site that is packed full of sugar mommas. This OlderWomenDating.com review includes everything you need to know about the website.
The clue is definitely in the title in regards to this site, OlderWomenDating.com is a site full of older, wealthy women and guys of varying ages looking to strike up some kind of relationship with them. This is not as well known as similar sites online but it is increasing in popularity and my research has shown that it's really high quality. You have the option of free or premium membership like you do with most sugar momma dating sites. The premium membership will give you more features and increase the likelihood of finding more women in your area, the more sugar mommas you have to choose from, the more likely it is you will find a relationship where you are both satisfied.
Older Women Dating features
Let's have a look at some of the features of both the basic and gold membership on OlderWomenDating.com.
As a basic member, you will have:
The ability to make a profile and add a maximum of 26 photos.
Access to the blog and forum, with the ability to also post on these platforms.
Access to a private album where photos can be uploaded and you can also set it up so certain members can view this album.
Access to success stories from previous members who found love on OlderWomenDating.com
As a gold member, you will have:
The ability to initiate a conversation with members you are interested in via live chat or email.
The ability to send private photo album requests to other members.
Access to more than 1000 dating tips, which should help you when trying to find the perfect sugar momma.
The ability to send birthday cards to other members and also save your chats.
The ability to carry out advanced searches, helping you to find a woman who fully meets your criteria and lives nearby. The site will also assign you matches, so you can assess who is the most compatible with you.
The cost of membership
A basic membership is free but your options are quite limited with a standard package, the cost for gold membership needs to be paid upfront and it is as follows.
1 month - $29.95
3 months - $59.95
6 months - $95.95
Pros
The website is easy to use with all the links clearly laid out on the front page.
The site is solely set up for cougars and cubs to connect, there will be no confusion like you might get on other dating sites and no other members that you have to sift through.
Gold membership is cheaper than what it is on most sugar momma websites.
Older Women Dating has satisfied customers from all over the world, there are even testimonials that you can read.
In addition to actually helping you find a potential sugar momma, you will also have access to dating tips on the site which could be helpful.
Cons
There are not as many features as other sugar momma dating sites, although still enough for you to find what you are looking for.
There is very little that you can do with a basic membership and some would-be customers might not be able to afford a monthly fee.
Conclusion
I hope this OlderWomenDating.com review has told you everything you need to know about the website. Although it doesn't have as many members as other sugar momma sites, the number is growing on the day. There are definitely more pros than cons to this site and signing up to a a basic membership will allow you to see what it is all about with no obligation to pay. For what it does, it works really well and can help set you up with a mutually beneficial relationship in your area.
Visit Site